EDIT MODE
Love is (was?) in the air! Grab your loved one and build this cute bear together.
Contents:
Introduction
So, first up: Yes, I know, I'm late. There were some wires crossed, and the set came in a week after Valentine's day. Luckily, I trained my wife not to expect anything on February 14th, so no disappointment there. The review is also a bit later, because I had to fix my car. The brake-lines were damaged somehow.
Seasonal sets have been a long tradition at LEGO. Since 2018, they used BrickHeadz for this line. So far, 15 BrickHeadz have been released:
2018
2019
2020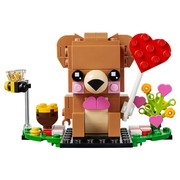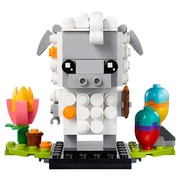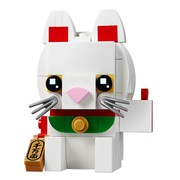 Last year, JaredHinton wrote a review about the 40352-1 Thanksgiving Scarecrow.
This is the 3rd Valentine's set to appear as a BrickHeadz. Let's see if sparks will fly.
The Set
The adorable LEGO® BrickHeadz™ Valentine's Bear (40379) is the perfect way to let someone know how much they're loved. Holding a large red heart, the cute brown bear sits on a picnic blanket together with his little bee friend, a honey jar and colorful flowers. Displayed on a sturdy baseplate, the Valentine's Bear is a fun, lasting gift idea for him, her, boyfriend, girlfriend, husband, wife… at any time of year, whether Valentine's, birthday, Christmas or just because.
The Box
The box is the standard one for Seasonal BrickHeadz: 14 x 12 x 5.8 cm, and weighs 160 grams. Inside are 3 bags with parts, and the building instructions.

The Instructions
The instructions measure 13.3 x 10.2 cm. There are 43 building steps on 43 pages. The pdf can be downloaded here.
The Parts
The set contains 150 parts and 19 spares, in 18 colors, and 16 part categories, with a total of 65 unique parts/color combinations.
Main colors are:
Main categories are:
There is one part in a new color, the 30565 - Plate Round Corner 4 x 4.


The 39613 - Plate Angled 3 x 3 with Heart Shape has appeared in Red is 1 set before, the 70422-1 - Shrimp Shack Attack.

The Build
As to be expected, the build is straight forward. I think this is the first BrickHeadz to be sitting down.


The body consists of the standard 22885 - Brick Special 1 x 2 x 1 2/3 with four studs on one side. I'm not sure why 1 of them is white. I assume so you can better see the orientation of the build? The result is a cute bear.

An extra in Seasonal BrickHeadz is the addition of 2 plates on the sides, for added scenery. In this case it's a honey pot complete with a micro bee, a pick-nick blanket and a shrubbery.


Conclusion
So, did I fall in love? I think so. Not head-over-heels, but it offers what it needs. The design is nice, and a good gift for a loved one, for a decent price.
When you've build a dozen BrickHeadz, they tend to become repetitive. Luckily, most builds offer a little variety to keep it interesting. So does this one. The sitting bear, the micro bee and the overall look is different enough for me.
Disclaimer: This LEGO set was kindly provided for review by The LEGO Group. Anything said in this post is the opinion of the author and not The LEGO Group.
Parts- and build photographs by Tobymac (© 2020 Rebrickable)