Improved PDK shifters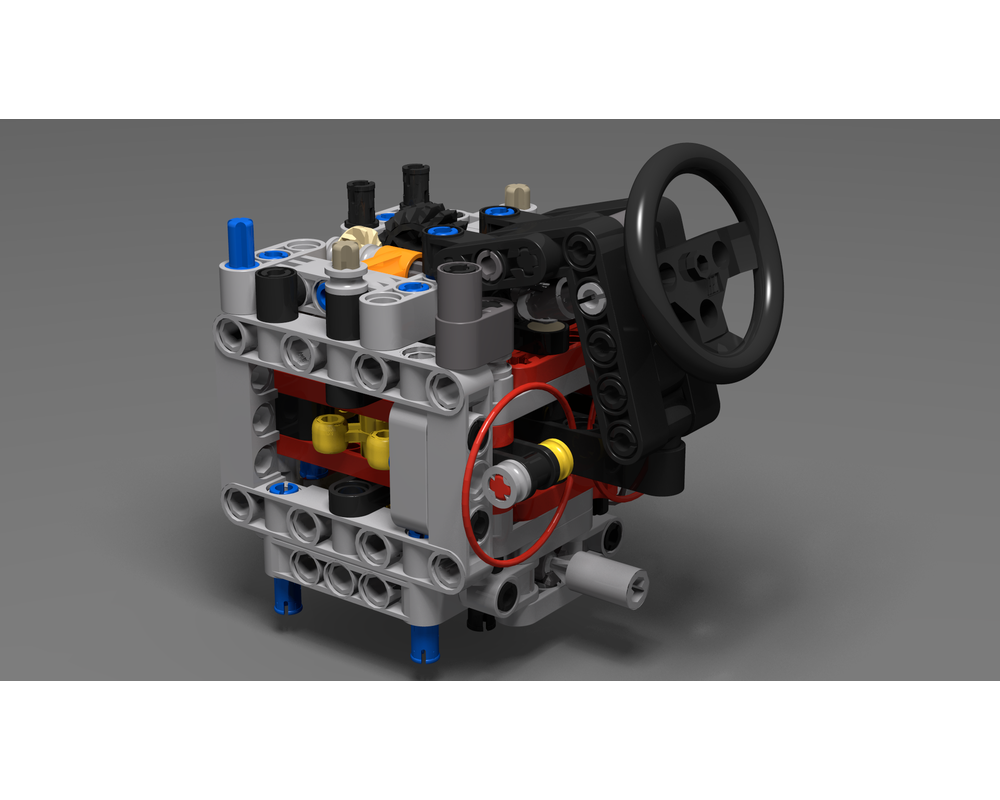 Improved PDK shifters for 42056
The mechanism is essentially the same as in the stock build. The main difference is that the casing is stronger and the paddles return more easily: there is no need for change-over catches and rubber connectors to obtain a smooth return of the side knob gears. But there is another advantage; the paddles need not return as far as in the original unit. In fact, the paddles can be brought one stud closer to the steering wheel. That's a nice thing! And because of the more smooth return, the paddles could do with less silicon power, which made it possible to move the silicon bands (red ones in this case) inside the unit, without introducing additional bending.
To summarize the advantages:
- Lighter operation
- Paddles 1 stud closer to the steering wheel
- Less travel required to shift (about 1.5 stud)
- Silicon bands inside the unit
- More realistically angled steering wheel
- Geared down steering with steering wheel
- More reliable shifting
Important notes on instructions:
- The expensive red 7L thin liftarms in the instructions can of course be substituted with the cheaper black versions, or any other color. In the inventory I replaced the red ones with black ones.
- If you don't have black 
Technic Pin Connector Perpendicular 2 x 2 Bent
parts, you can replace them with black 
Technic Axle and Pin Connector Perpendicular
parts. To do that you also need to replace the two
Technic Pin Long with Friction Ridges Lengthwise
 to which they connect with two
Technic Axle Pin 3L with Friction Ridges Lengthwise and 1L Axle
.
Important notes on installation:
- This unit only works when combined with the 90 degree limiter incorporated in the H-frame just in front of the gearbox!!!
- You have to check the position of the 12t thin bevel gear in the steering line. It could be that you need to move it to the other side of the 20t gear in your build.
- To fit this in, I extended
Hispabricks removable body mod
in the dashboard area. In the image below you see the stock parts to the left and my mod to the right.
- When you install or remove the body, you need to pull the left paddle, otherwise the door hinges won't pass the LBG half bushes underneath the steering wheel.
Already have some of the parts? Use the
Build this MOC
page to only show the parts you are missing.
Waiting for Inventory to load